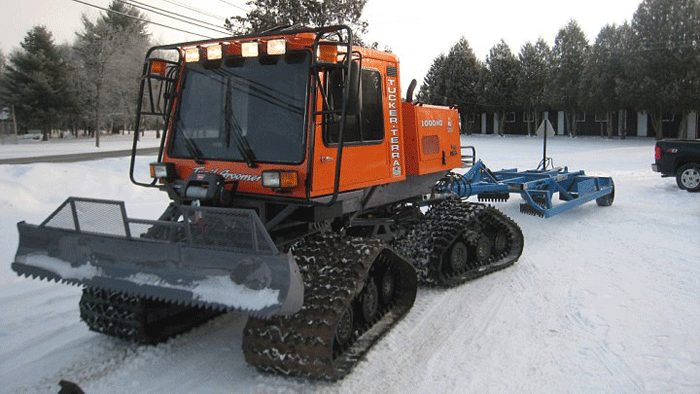 The use of  tracked groomers is causing controversy in the Adirondacks

For Dick Rosteck, a new snowmobile trail through the Adirondacks is "the greatest thing since homemade apple pie" and volunteering his time to groom it with a tracked vehicle
is a labor of love, reports Mary Esch of the Associated Press.
"But some environmental groups see such trails as snowmobile superhighways cut through the woods at the expense of habitat and the tradition of trails scaled to leave little mark on the wild lands. They're suing to stop the state from downing what they claim are too many trees to make way for them, and they also want to ban the use of tracked groomers, which drag a heavy steel frame to smooth trails for a safer, more comfortable ride.
"At stake is continued work on a network of new trails linking tourism-dependent communities in the park, a project that has taken years to plan and collaboration between regulators, environmentalists and snowmobile enthusiasts.
"Snowmobilers say the legal attack comes from a group of environmental purists who have little tolerance for motorized means of enjoying the

back country

. Among those disputing that characterization is Peter Bauer, executive director of Protect the Adirondacks, one of the groups that has sued.
"We are in no way looking to end snowmobiling or grooming on the Forest Preserve," Bauer said. "It is about making state agencies obey state law and protecting the Forest Preserve from further damage from the construction and grooming of excessively wide

road-like

trails."
"He said tracked groomers are illegal under the Adirondack State Land Master Plan, which governs activities on the 2.6-million-acre patchwork of state-owned Forest Preserve within the 6-million-acre Adirondack Park."
Read the full story at:
New Adirondacks snowmobile trails stir conflicts over tree-cutting, tractor-like groomers
Related:
Lawsuit challenges state management of snowmobile trail

s
________________________________________________________________________________________________________________________________

Our most recent blog posts:
Sen. Casey: Extend Broad St. Subway To Navy Yard
I
nterview with Clean Ocean Action's Cindy Zipf
(Audio)

Corbett signs transportation bill, channeling Christie
Hurricane Sandy bills get a hearing in Trenton today
Will Lambertville follow neighbor on organics recycling?