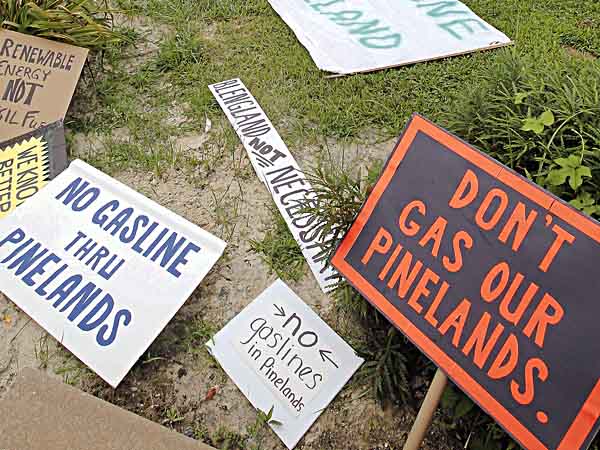 Philadelphia Inquirer photo by Akira Suwa

**Two additional related stories added below post at 3:25 p.m.**
Until recently, the efforts of environmental groups to prevent the construction of a natural
gas pipeline through a section of in the New Jersey Pinelands might have been dismissed
as a case of green groups taking an extreme position on a parochial issue.
An announcement yesterday involving four former governors, however, capped off a series
of recent events that combined to heighten awareness of the issue and widen the debate.
What initially was a South Jersey story began attracting greater notice over the last few weeks when:
1. The New Jersey Board of Public Utilities (the state agency with which corporate utility presidents and their attorneys are more familiar) worked out a deal under which the South Jersey Gas company would pay $8 million to the Pinelands Commission for various green projects. The Commission, in turn, would grant a waiver from its regulations that do not permit such new developments, allowing the pipeline to proceed. Critics immediately denounced the proposed memorandum of agreement as a "bribe" and "pay to play."
2. The Pinelands Commission held an evening public hearing on the BPU proposal in a small room, forcing many opponents to wait outside in the cold and limiting those who
found a seat inside to only three minutes of testimony each. The freeze-out only increased the temperature of those opposing the project
Like what you're reading? Click here to subscribe to this blog
3. Ed Lloyd, one of commissioners who had been vocal in his questioning of the pipeline, received a call from two members of the State Attorney General's Office who advised that he recuse himself from the debate since an organization that Lloyd was associated with (the Eastern Environmental Law Center) had petitioned the Commission for additional public hearings. Opponents took this as proof that the administration of Republican Governor Chris Christie had chosen sides and was using political pressure to get the pipeline approved.
The most dramatic turn of events, however, took place yesterday when environmental activists announced at a State House news conference that
four former New Jersey governors are calling for the pipeline be rejected
.
Brendan T. Byrne, Thomas H. Kean, James Florio and Christine Todd Whitman signed a letter to the Pinelands Commission,arguing that allowing the line to proceed might undermine the rules protecting and preserving the 1-million-acre reserve.
"We share a deep commitment to the Pinelands as one of New Jersey's most precious resources, and to the Pinelands Management Plan as the nation's most successful program to save vulnerable natural resources in the context of a crowded and vibrant state," the governors said in the letter.
"The current proposal would compromise the integrity of the Pinelands plan and serve to encourage future development contrary to the vision the plan sets out for growth and conservation in the Pinelands."
If commission members were uncomfortable about their impending decision before
now they've got four previous governors looking over their shoulders. Two Democrats—Byrne and Florio—and two Republicans—Kean and Whitman. Of course, the only governor who really counts at the moment is
Chris Christie
who has direct-appointment authority over seven members of the
15-member commission
.
What's it all about?
At issue is a proposal by South Jersey Gas to run a 22-mile natural gas pipeline from Maurice River Township in Cumberland County to the polluting, coal-fired BL England plant in Cape May County's Upper Township. Without switching to gas, the plant won't be able to meet newer NJDEP air standards and must close.
South Jersey Gas contends that the region needs the plant to meet future energy demands and notes that most of the proposed route is along paved roads and rights of way that would not impact endangered or threatened plants and wildlife.
Read more about the Pinelands pipeline in these environmental news stories:
Four Former NJ Governors Oppose Pinelands Pipeline Projec

t
Four ex-governors oppose pipelin

e
Former governors join opposition to Pinelands pipeline - Burlington County Times
Green groups coming to Trenton with Pinelands in mind
– EnviroPolitics Blog


NJ Pinelands gas pipeline touted; Commissioner tossed

- EnviroPolitics Blog
Proposed Natural Gas Pipeline Would Cut Through Pinelands - NJ Spotlight
Letter to the Editor: Facts Support Approval of Natural-Gas Pipeline
Proposed Natural Gas Pipeline Would Cut Through Pinelands - NJ Spotlight
Cape May Freeholders Support Pinelands Pipe ... - New Jersey 101.5
Residents speak out for, and against natural gas pipeline installation - NBC40
What's your view? Is a decision being rushed? Does the environmental value of substituting cleaner-burning natural gas for coal mitigate other potential harm? Are environmentalists ignoring the state's longer-term energy needs? What role is politics playing? Who gains? Who loses? Should the commission vote yes or no?
Recent blog posts:
Here's your complimentary copy of today's EnviroPolitic
s
Highlands Council seeking consultant for fiscal analysi

s
Green groups coming to Trenton with Pinelands in mind
Capitol Hill Calendar: December 17-19, 2013
M

onday looks like a honey of a day in NJ Ag Committee
NJ Pinelands gas pipeline touted; Commissioner tossed
Committee holds LSRP bill when NJDEP fails to testif

y