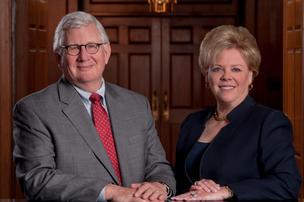 Buchanan Ingersoll & Rooney CEO Jack Barbour and Fowler White Bog
gs CEO Rhea Law.

Buchanan Ingersoll & Rooney PC, Pittsburgh's third-largest law firm, on Thursday said it is merging with Tampa, Fla.-based Fowler White Boggs,
Patty Tascarella reports in the Pittsburgh Business Times that the deal is expected to propel the firm into the nation's 100 largest with 530 lawyers, and it takes Buchanan's offices to 18. Financials were not disclosed.
This is the biggest deal for Buchanan since the 2006 combination of two of Pittsburgh's biggest firms, Buchanan Ingersoll PC and Klett Rooney PC, still the largest transaction to occur in southwestern Pennsylvania.
***Like what you're reading? Click here to get free blog updates

***

 

 

 

 
The firm will be known as Buchanan Ingersoll & Rooney/Fowler White Boggs in Florida for a one-year transition, and Fowler CEO Rhea Law will serve as chairman of Buchanan's Florida offices. Buchanan, which had Florida offices in Fort Lauderdale, Miami and Tampa, will now have six sites in the state — adding Fort Myers, Jacksonville and Tallahassee. Miami is new territory for the Florida firm, which could not open an office in the city because of an agreement with a law firm with a similar name, Fowler White Burnett.
 

Fowler White Boggs was a 90-lawyer firm with five offices, all in Florida. There's site overlap in Fort Lauderdale and Tampa where both firms have offices.