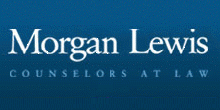 "The deal, in which Morgan Lewis would certainly be the acquirer, would turn the firm into one of the five-largest in the world, with more than 2,000 lawyers and $2 billion in gross revenue.
"A Morgan Lewis spokesman told the Philadelphia Business Journal Sunday night that the firm would have no comment on the story. But Reuters said the merger appears to be all but a formality."
Morgan Lewis has substantial practices in environmental and energy law.