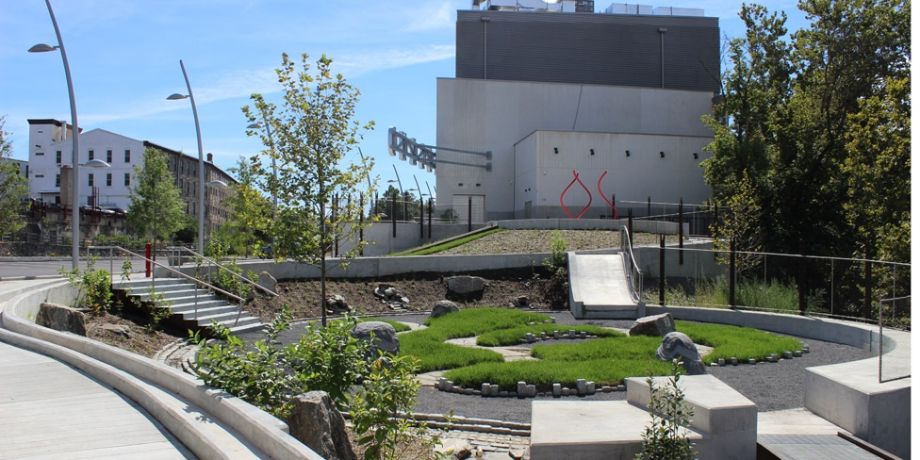 Venice Island in Manayunk is a piece of infrastructure that doubles as a public park
and theater.
"Venice Island, which will play an important role in managing stormwater in Philadelphia's flood-prone riverfront Manayunk neighborhood, is hardly an ordinary piece of water infrastructure, "Sarah Goodyear writes in Next City.
"Yes, it incorporates that underground storage tank, which can hold up to four million gallons of overflow during heavy rainfalls, keeping raw sewage out of the Schuylkill. But the $45 million project also encompasses a theater, a spray park, a basketball court, and an outdoor amphitheater. It has a green roof and is surrounded by rain gardens that capture storm runoff.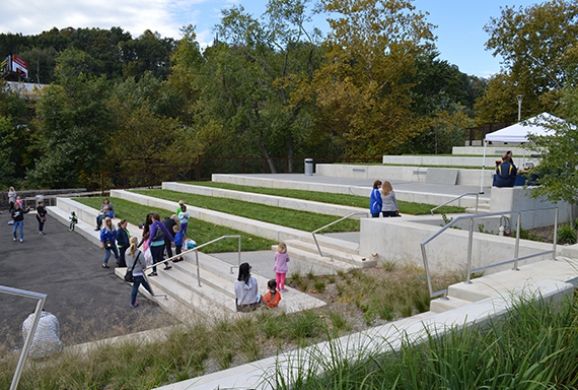 Underground storage tanks and rain gardens make
a critical stormwater management tool.
"The Venice Island facility is just the latest and most visible manifestation of Philly's Green City, Clean Waters program, a 25-year, $2.5 billion initiative spearheaded by the Philadelphia Water Department that is changing the way the city manages its stormwater. The result of a groundbreaking agreement among the city and the U.S. Environmental Protection Agency, Green City, Clean Waters is emerging as a national model for how to go green from the bottom up. Crucially, the program involves both the public sector – led by the Philadelphia Water Department and Mayor Michael Nutter's office of sustainability – and private landowners as well as neighborhood groups, residents and even schools."
Is information like this important to you?
Click here for free updates