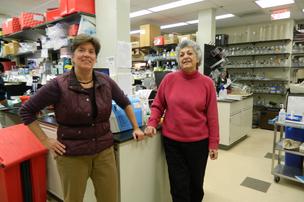 Wistar's Maureen Murphy and Penn's Donna George are working
with GlaxoSmithKline on an experimental cancer treatment.
How many times have stories like the one to follow raised our hopes
only later to let them down. Let's hope this time might be different.
The headline in yesterday's
Philadelphia Business Journal
reads:
GSK, Penn, Wistar say they've found cancer's 'Achilles heel'
In the story,
PBJ Senior Reporter John George
writes:
A trio of scientists have started working with researchers at GlaxoSmithKline on a potential cure for cancer. In fact, they believe they've found the diseases' "Achilles heel."
Last month, GlaxoSmithKline (NYSE: GSK) selected a Wistar/Penn project for its 2014 Discovery Fast Track Challenge program, which was created to accelerate the development of new medicines.
The project was submitted by:
Maureen Murphy
, a Wistar professor and program leader of the institute's molecular and cellular oncogenesis program;
Donna George
, a Penn associate professor of genetics; and
Julie Leu
, an assistant professor in genetics at Penn.
It was the only research project involving Philadelphia-area scientists selected for GSK's two-year-old Discovery Fast Track Challenge.
GSK chose 14 research project proposals for the program from 428 entries from researchers in 26 countries.
Targeting cells cancer needs to survive
The Penn/Wistar scientists are looking to develop a drug that targets a stress-induced protein, called Heat Shock Protein 70 or HSP70, that's found in low levels in normal cells, but is over-expressed in most tumor cells.
"Normal cells don't need HSP70 to survive, but cancer cells do," Murphy said. It's the Achilles heel of cancer."
The protein, Murphy explained, is linked to autophagy, which is the process through which the body in times of stress promotes survival by self-digestion. Cancer cells use the same process to survive.
"If you limit autography, normal cells will live for a time," Murphy said. "Cancer cells will die immediately.