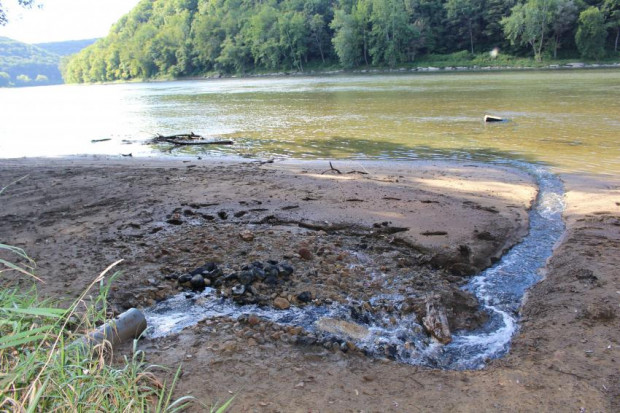 Reid Frazier reports for StateImpact
:
Treatment plants that handle conventional oil and gas waste water are causing a buildup of radioactive materials at the bottom of three Western Pennsylvania waterways, according to a new study from researchers at Duke.

"We concluded that recent disposal of treated conventional (oil and gas waste) is the source of high (radium concentrations) in stream sediments at (waste) facility disposal sites," the authors wrote.

The study found high levels of radium, a naturally occurring, radioactive material, in river and stream sediment at levels up to 650 times those found upstream of three industrial waste treatment plants that handle fluid produced by conventional oil and gas wells.

"I don't see it as a life-threatening risk, but it's one of those chronic effect that over the long term it will have a toll on the environment," said Avner Vengosh, one of the study's authors. "What is the toll? We can only speculate."

In 2011, Pennsylvania asked treatment plants not to handle waste water from Marcellus shale producers, and in 2016, the EPA banned the process.

But treatment plants in Pennsylvania can still take waste water from conventional, or shallower, oil and gas operations. Those operations don't generally use hydraulic fracturing, but they still produce waste water, said Paul Ziemkiewicz, director of the West Virginia Water Research Institute at West Virginia University.

This fluid is also called "brine," a salty mixture that brings with it minerals and elements found in gas-rich rock formations.
"What you have coming up to the surface is a mix of water and gas, and sometimes oil," he said.

Ziemkiewicz says even conventional waste water can be high in radium, so he's not surprised at the study's result.

"When we've compared conventional and unconventional brines, chemically they're almost identical," he said. "It would be surprising to me if radium didn't show up."

Ziemkiewicz says drinking water facilities must remove radium from drinking water; the most obvious concern he has would be for the accumulation of radium in the food chain, and eventually, fish.

Like this? Use form in upper right to receive free updates

See popular posts from the last 30 days in right column --- >>